Cellar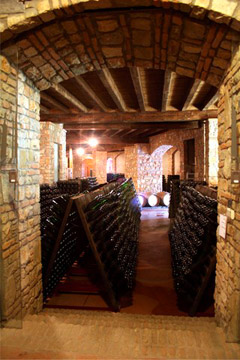 The activity of Le Cantorie currently takes place in the 1000 mq winery partially underground and recently completed, which is the button-hole of the farm.
The architecture of the walls covered with handmade stones directly obtained from the hill, the niches for the bottles stacking contoured by sight red bricks and the big wooden rafter ceiling, other than grant an ideal environment of the wine maturation thanks to humidity and inside temperature, recall an old fashioned atmosphere, like being inside a winery of '700.
Old fashion and modern are opposing, giving birth to a suggestive scenery among the barriques for the wine refinement and big stacks of bottles.