Le Cantorie - La Storia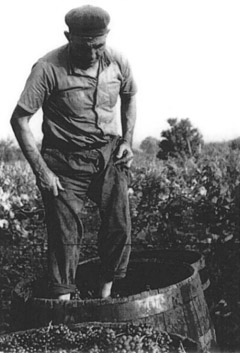 The wine growing and producing farm Le Cantorie is one of the most inaccessible wineries in Franciacorta, lying on the rocks at the end of a breath taking steep slope on the hill of Casaglio, in the territory of Gussago.
Le Cantorie owes its name to the dialect appellation of the hill where it rises. The term "le canturie" comes from an old local belief: the village elders believe that this term has been given to this hill because of the chirping of the cicadas.
The peculiar morphology of this hill, its strategic position at the back of the village and the good climatic conditions – always exposed to the light of the sun and the moon - lead the cicadas to sing in unison the vintage time not only during the day but also in the night.

Le Cantorie's vineyards are located in the east border of Franciacorta, a valley with a specific structure, with terracing that seem to be outlined, which stand up steep on the hills and the dry white calcareous stone walls, linked together in a harmonious frame, giving a thrilling view.

The peculiar features of the moraininc area, the richness of the subsoil and the particularly favourable environment conditions, as well as the deep knowledge and experience matured by the people of this place in the respect of the ancient farm tradition, are the elements determining the unique nature of the grapes obtained from the vineyard cultivated on these hills and the high quality of the produced wines; through the taste and the perfumes these wines tell the history of the territory itself.

Our roots:
- 1998: Origins. Walls and historic vineyards:

- 1999: First works to build retaining walls in the vineyards and deforestation for new installations:


- 2001: Beginning excavation work for the construction of the cellar:







- 2002: Construction of the first part of the cellar tower:

- 2003: Early work of stone cladding exterior and interior. Plant new vineyards surrounding the winery: